#StartupLife by #ThatTechGirl @LibertyMadison
Millennials • Tech • Events
Turns out people do not give actual gifts on birthdays. Did you know that?!!

The most you can expect from a friend in the is day and age is "HBD" on a Facebook Wall. YEP! Your entire 5 year friendship comes down to 3 letters! That was THREE letters! Oh my how life has changed.

Which is great! At least they hit the #2 button on the key pad to send that coveted HDB your way. Be grateful. I once lived for the HDB! I used to look forward to replying to each and every message!

Not so much anymore.
I wanted a different digital gift. I wanted a gift that kept giving.
Typically I …MORE >>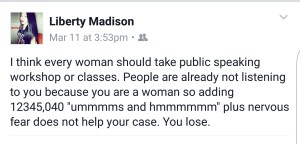 I attended a private lunch in Silicon Valley, celebrating powerful women in Silicon Valley. I gave an impromptu Ted Talk about how I leveraged technology to change my life for ever.
I introduced a room full of powerful women to #ThatChallengeGirl, changing your life one challenge at a time. I walked them through how I launched challenges to lose wight, become a vegan body build, do stand up comedy, being cast in my first hollywood sci fi film, became a bee keeper to over 100,000 bees, became a country western line dancing teacher, produced a documentary, and how I became a trap god! Yes I produced a trap …MORE >>
New face of @Ciscoo Social anyone?

#ThatTechGirl named 1ST EVER CISCO Social Media Influencer to take over Cisco Corporate Social!


For the first time in history a non Cisco employee partners with the legacy brand to drive engagement via social! #ThatTechGirl Takes over #CISCO social!
I caught up with Liberty Madison in San Francisco California as she was leaving an invite only event, 5th Annual Extraordinary Womens Lunch hosted by Anjou Ahlborn Kay, I asked for a few moments of her time to discuss her latest announcement on Instagram @LIbertyMadison
"I'm thrilled to be the 1st ever non #cisco employee to over their social. They have worked with influencers in the …MORE >>
Visit #ThatTechGirl @LibertyMadison
—
#ThatTechGirl @LibertyMadison On The Move
The requested photo source cannot be loaded at this time. Error: APINotFoundError Code: 400, this user does not exist
—
#ThatTechGirl @LibertyMadison
L
iberty is founder at #ThatTechGirl Media, a digital content creation tech company in Silicon Valley. The sole mission is altering the perception of tech to millennials. We are making tech look awesome and helping millennials learn more about technology and lowering the barrier to entry. Did we mention the goal of our tech co is to change the perception of tech through tech media and original digital content creation. Look out for our new shows online and on the big screen. Tech is the new jock! Follow this tech founder, TV Host and all around idea girl, as she teaches people to stop saying "Disrupt"! Read more>>